How
it works
Subscribe
A few clicks and you're set up with a monthly delivery of playtime magic
Receive
Patiently await your first delivery. (This is the hardest part.)
Learn with Mochi
Explore different subjects through Mochi's playful adventures
Adventures

await you right now

A Monthly Subscription Box full of Adventure and Learning
Learn Animals with Mochi

Take a tour of Madagascar on Mochi's safari expedition 

Learn Shapes with Mochi

Land in Egypt and explore the shapes of the Great Pyramids

Learn Letters with Mochi

Meet Mochi's friends at the zoo and learn the ABCs of the Animal Kingdom

Learn Numbers with Mochi

Build a bear cave with Mochi and master your 123s!

Learn Good Habits With Mochi

Learn good habits with Mochi, such as saying 'please' and 'thank you'

Learn Words With Mochi

Learn to spell your first 25 words with Mochi's classmates Penguin, Octopus, and Fox

Learn Fruits and Vegetables

Spend a day at the farm picking different fruits and vegetables

Learn Biology With Mochi

Do plants breathe? Go inside a plant cell with microscopic Mochi to find out!

Learn Time With Mochi

Learn how to read time on a time-traveling adventure with our lovable Mochi bear

Story Map 1х

Story Book 1х

Craft pieces 3х

Storyteller 1х

Coding block 1х

Lego connector 6х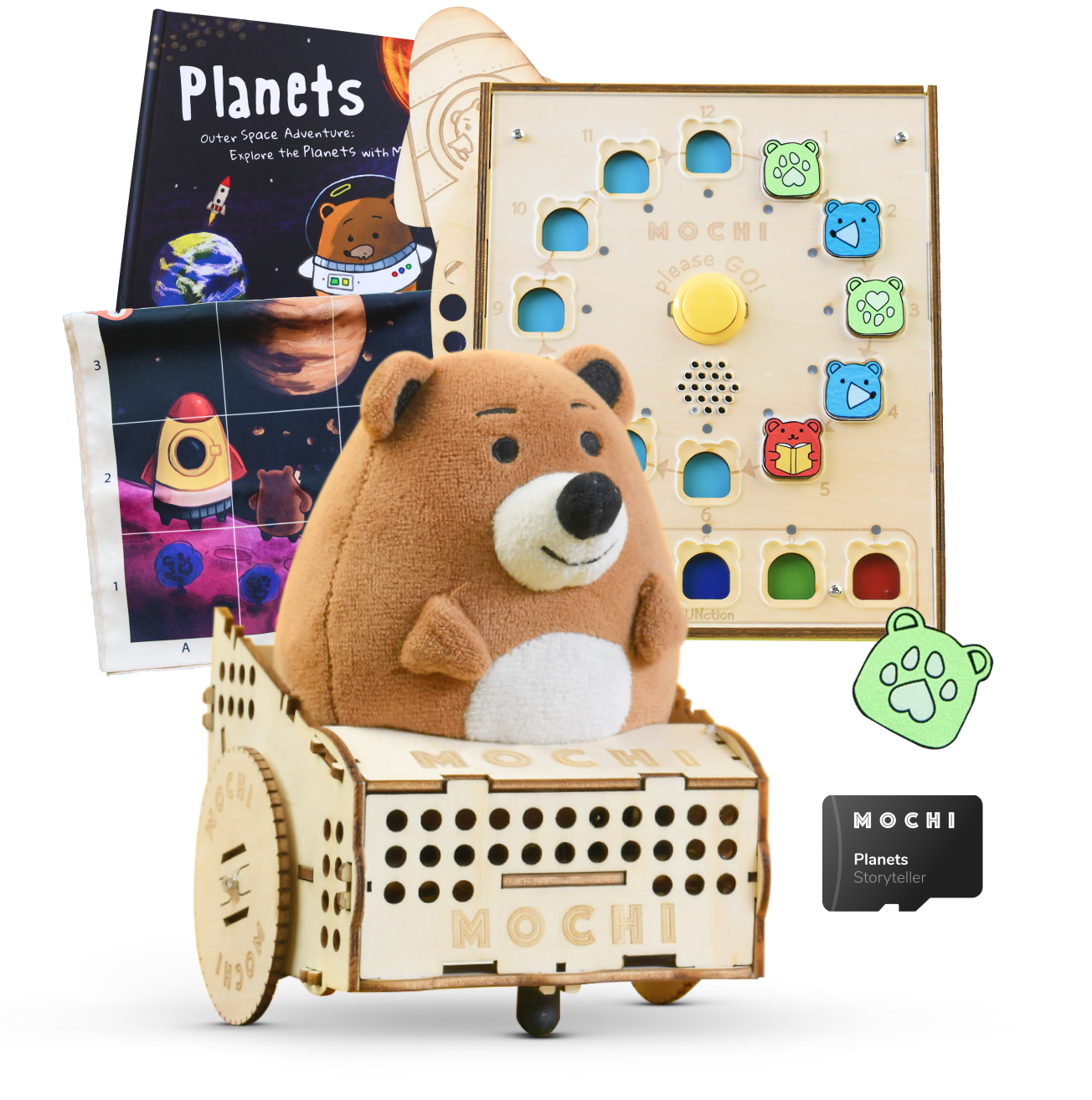 Don't forget

about Screenless Coding Robotics Kit

$189$299

Everything you need to get started to learn with Mochi is included in this kit: Mochi bear, Lego-compatible Rover, Programming board with coding blocks, + Planets Story set
Hours and
hours of fun
Using songs, sounds, dance, music and words, Mochi will navigate your child through endless adventures as they explore the world.
Through creative, collaborative play and Montessori-style learning, Mochi gives your child the skills to be successful in tomorrow's world.
Technology is a critical part of our lives, yet most of us only consume it. Learning computational thinking is powerful, because it means you get to create it.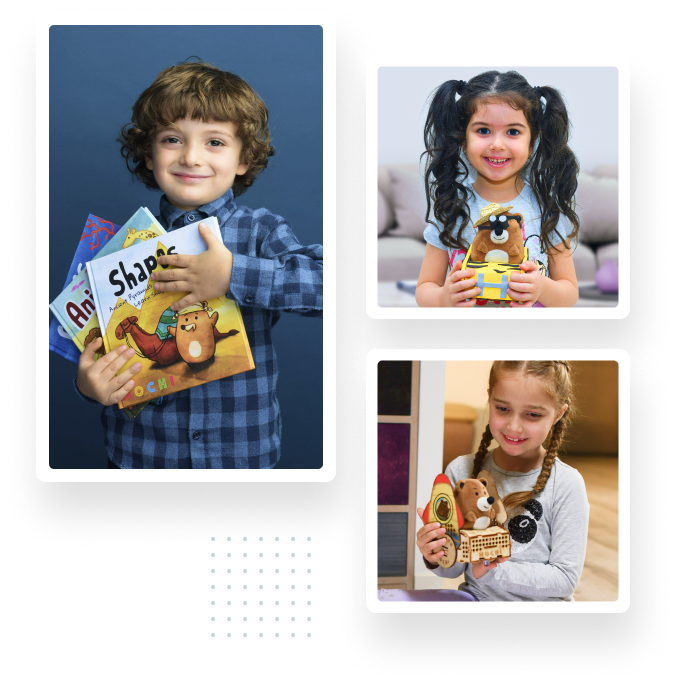 Kevin
Chesapeake, USA
Now that I have that little bear and his spaceship I am absolutely impressed with the quality and the overall hands-on experience. It is remarkable. This is a fantastic product the way it is right now.
Selina
Taiwan
Just purchased the Mochi Lego-compatible Rover, and got it today. Love the storybook and the kit.

Lyudmila
Seattle, USA
I ordered this kit on the Kickstarter and am very pleased to see it now available on Amazon. We got it a few weeks ago ... read more

Karen
Moody, USA
This product is great. I recommend it for anyone with children ages 3-6 who desire to give their children an advantage with early... read more

Sandrine
Claville, France
I am totally fan of this product. I love the quality: the fabric for the map, the strong paper for the book, the wood for the board and Lego-compatible Rover... read more

Jobin
Bergen, Norway
I love the concept. I love how simple it is to set up, and its ease of use. My three-year-old daughter also absolutely loves it, and wakes up each morning and asks me whether we can play with Mochi. You've created something really great here, and for that I am extremely grateful.
Unnamed
no country
We received Mochi today our almost 2year old loved it instantly. Especially that she now has her own small screwdriver and friendly Rover that she can decorate and program

Susan Terrell
No country
There's so much to learn with our new mochi system. The kids absolutely enjoyed reading the story and learning the basics of coding without being glued to an electronic screen. We love this concept and look forward to exploring more mochi adventures in our kit! My two daughters, Audrey (7) and Jocelyn (3), enjoyed the stories and learning basic coding concepts.

Get start

your subscription
Monthly
$35.00/month
*Save $5.00/month
Most Popular!
3 Month
$31.50/month
*Save $10.50/month
6 Month
$30.80/month
*Save $25.20/month
Best Value!
12 Month
$29.75/month
*Save $63.00/month
Subscriptions renew automatically. All prices in USD. Cancel anytime.
*Compare to Store price ($35.00 + $5.00 shipping/delivery)