In an ever-changing world, the one thing we as parents can do is to teach our kids how to think, learn, and explore.
We empower kids to become
makers, creators, and shapers

of the technologies we use everyday.
Building
for the whole child
We're building the Montessori method for STEM education, and we're on a mission to make it accessible to any child, of any age. Fundamentally, technology is too important to remain the realm of the .01%. Yet only a tiny minority, in hubs like Silicon Valley, create these digital experiences for the rest of the world. Our hands-on experiences empower kids to become makers, creators, and shapers of the technologies we use everyday.
Open
Made for open-ended play, so whatever their natural proclivity, children can discover what they love.
Inclusive
Our products arrive as a blank slate, so boys and girls can create the experience in their own image.
Holistic
Encompassing each pillar of functional literacy education in STEM and their applications.
Interactive
Each step engages all the senses, including tactile, auditory, visual, and sensory — all without a screen.
Hands-On
Nothing beats the joy of hands-on, physical learning. The Montessori method is core to what we do.
Vaneni Vardanyan


Mom in Chief

Vaneni Vardanyan is a STEM educator with decades of experience working in innovative educational systems in Denmark, England, Armenia and the United States to implement best practice curriculum and training for young kids learning STEM. She brings her additional expertise in Psychology to help develop and design the curriculum and educational approach at Learn With Mochi. In addition to the theory, she practices everything she knows every day raising her 3 young girls.
Mark Pavlyukovskyy


Founder & Chief Bear

Mark Pavlyukovskyy is an inventor, entrepreneur, and very prolific bear. Previously, Mark invented the Piper Computer Kit, a DIY computer that anyone can build themselves. Mark has also been recognized by Forbes as a top changemaker under the age of 30 and by Princeton University as one of its best alumni entrepreneurs.
Daria Zhao


Co-Founder & Chief Creative Octopus

Daria Zhao is an educator and former Wall Street analyst who realized the most valuable investment we can make is in our children. Daria leads product, creative, and design at Mochi. Her job is to bring Mochi's learning adventures to life for children around the world.
Dr. Mihran Vardanyan, PhD


Chief Scientist

Dr. Mihran Vardanyan is an Oxford-trained astrophysicist with a secondary degree in pedagogy. At Mochi, Dr. Vardanyan directs R&D. His work focuses on applying the most effective pedagogical methods to learn advanced concepts such as robotics, learning algorithms, and computer vision.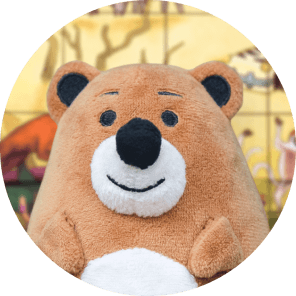 Mochi Bear


Chief Inspiration

Hailing from a planet far, far away, Mochi is a curious brown bear who loves learning and exploring the world. Mochi's curiosity and love for learning is an inspiration for us all!
Thank you to our team members from
5 continents

who are bringing Mochi to life:
Alex S.

Design, Europe

Taras H.

Engineering, Americas

Dmytro S.

Engineering, Europe

Vicky K.

Operations, Asia

Bjorn O,

Creative, Americas

Hyunjin J.

Product, Asia
Krisztina T.

Design, Europe

Ilya R.

Product, Asia

Pamela H.

Operations, Asia

Sanju S.

Operations, Asia

Alexander K.

Operations, Europe

Tigran S.

Design, Europe
Nataly K.

Design, Europe

Kyril S.

Engineering, Europe

Abhishek S.

Finance, Asia

Dr. Max M.

Engineering, Americas

Pooja S.

Engineering, Asia

Laura W.

Product, Europe
Every day, technology is changing the
way we live
Let's democratize the way our children learn and consume technology so that they, too, can be equipped to shape the future.